Volunteer Organization in America
Volunteer Work Opportunities

Needs of Survivors
Survivors of disasters tend to progress through different phases as time passes. At each stage, support from others can make the recovery process less painful and more healing.
Impact - the disaster occurs. People rise to heroic levels to save themselves, their families, and strangers in need. Immediate neighbors, families, and responding emergency teams work closely to solve obvious problems and provide support. This lasts a few days.
Relief - we survived. For a few months after a disaster, those that survive feel a camaraderie with others having fought through the challenge and persevered. Initial government aid arrives and the clean-up begins. Community aid groups and volunteer organizations provide support and survivors feel that things will be ok thanks to the relief efforts.
Disappointment - on our own. A couple months up to two years after the disaster, survivors lose their sense of comaraderie as indivuals concentrate on repairing their personal damages to life and property. Some expected aid most likely does not materialize and relief organizations have completed their initial tasks and are off to a new emergency. Local relief groups may be exhausted and out of funds. Anger and bitter resentment may surface as disillusionment with 'the system' sets in.
Grit - its up to me. Depending on the size of the disaster, this may last a few years where individuals realize they need to take ownership of rebuilding and perform the required reconstruction. Progress takes shape and buildings are repaired or rebuilt and the community becomes stable once again.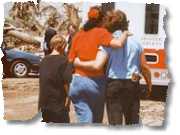 Depending on the background of the people effected, they may expect aid and support or completely reject it and try to fix everthing on their own. Typically, communities fall somewhere in between. In order to successfully cope with disasters, some skills are very valuable to nurture:
Acceptance of Aid - let those that can and want to help, do it. Do not be too proud to accept assistance.
Patience - let others vent their frustrations and give them time to come around.
Support - care for your family's and neighbor's needs as you can - both physical and emotional.
Empathy - take time to talk to and listen to others. Let them share and take time to share your own feelings to help recovery.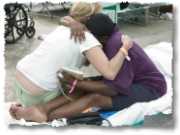 Volunteer Opportunities
If you are in the midst of the disaster, you can do a lot of good immediately. Depending on your neighborhood, the ability to work together with neighbors is good therapy to begin recovery. Consider these steps to take:
Care for yourself and family first. Make sure you are secure and safe. If not, take care of that first.
Inventory your supplies and your needs. Do you have enough water and food? For how long? Do you have some to share?
If you are able, go to each neighbor's home and check on them. If they are ok, ask them to do an inventory also. If they need immediate help such as first aid, give it. Otherwise, continue to check your other neighbors.
Share what you can with those neighbors that are ok but need supplies.
Communicate with your neighbors to make sure everyone has what they really need.
If some neighbors are homeless while others have stable houses, try to open homes as short-term shelters.
If there are a few families with adequate food or water supplies, try to use them as short-term food pantries.
Work as teams to repair or stop highest priority problems, such as holes in roofs, gas leaks, and water problems.
Global Volunteering
Many people feel a strong need to help others caught in a catastrophe, even strangers miles away. There are many ways to help remotely:
Give Money - donating to reputable organizations is the most flexible and useful way to help survivors.
Give Blood - the Red Cross always needs more blood and after a disaster their supplies are usually low.
Give Goods - collect water, diapers, food, ... and transport them to the disaster area. It is best to check with a local organization to find out what is really needed and where it is needed before sending goods.
Give Labor - check with a national organization that is involved to see if your specific skills are needed and pitch in.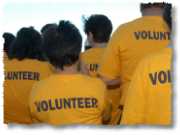 Volunteer Organizations
American Red Cross
InterAction
Lutheran World Relief
Heifer International
Northwest Medical Teams
World Relief
Relief International
Lutheran Disaster Response
Salvation Army
List of Many Orgs